Keith McCabe Kids Magician Meath

Keith McCabe is a professional Magician and children's entertainer from Co. Monaghan. With over 18 years experience in kid's entertainment under his belt, he has performed all over the country and abroad. Keith has performed at every type of event from small private children's parties to large scale corporate events and even spent a Summer in Salou, Spain working as resident Magician in 'House Of Illusion' where he performed over 300 shows. Based in  Co. Meath, Keith performs magic for both adults and children, working mainly in the north east of Ireland (Meath, Louth, Cavan and Monaghan ). Keith's Magic show for kids uses an amazing blend of comedy, gags and close up Magic which is designed to get the audience involved and keep them engaged while laughing all the way through.
Booking a seasoned professional children's entertainer like Keith is one sure fire way of making your kid's birthday party or private party a truly special and memorable occasion. Your guests will be amazed!!
No.1 for Kid's Party Entertainment in Leinster and Ulster!!

Keith McCabe is available for the following types of parties:
Communion & Confirmation Parties
Corporate Functions
Christmas Parties
Children's Parties
Private Parties
Weddings
Children's Magic Show Leinster & Ulster

The perfect kid's entertainment in Meath and surrounding areas…
My Children's magic show is one hour and 30 minutes long and includes magic tricks and balloon modelling with background music.
The shows are suitable from ages 5+, The magic is easy to follow. There is loads of audience participation in the shows because young children don't want to just watch…. they want to be involved, which is fine by me. Some of my routines end with the Magic moment happening right in the kid's hands.. this really blows them away. In other cases the child gets to be the Magician, causing the Magic to happen with a wave of the wand.
No.1 Kid's Party Entertainer in Leinster & Ulster!
The magic show is split into two sections, magic performance for 30 minutes, followed by balloon modelling for all the children. While the balloons are being made there is background music playing. This can be tailored to your specific needs.
The overall length of the magic show is one hour and 30 minutes, other shows may be different.
The children will watch in amazement as I defy gravity with normal objects, make objects disappear and reappear, magic wands and much more.
There are two different shows for repeat booking so it's different magic tricks in each show. Although I do have a structured act, this can be tailored to suit your needs. I will always do my best to accommodate my customers so if you have an upcoming party or event, feel free to get in touch and we can discuss the details.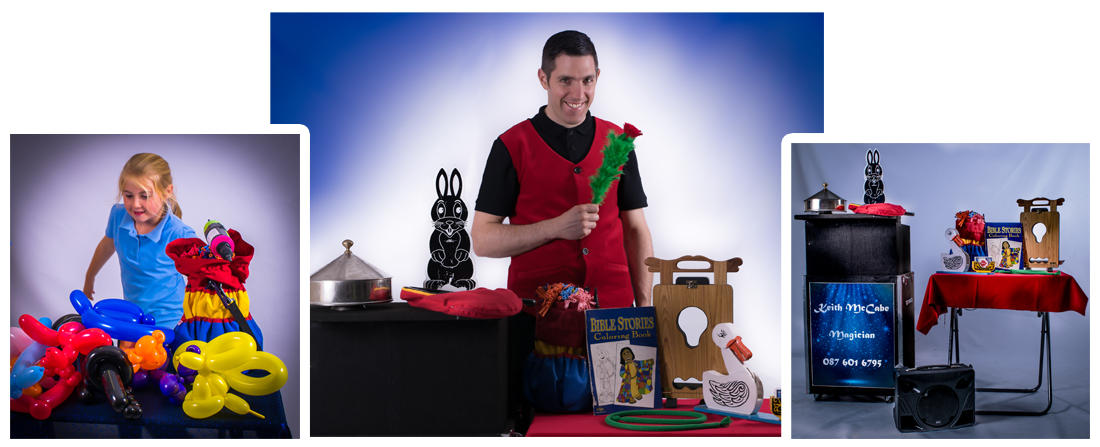 Close-up Magic for kids parties in, Leinster & Ulster.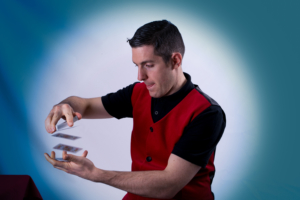 Close-up magic happens right in front of you. This intimacy is what makes it so different from other types of magic. As a close-up magician, I interact with the crowd much more than a stage magician. Your guests will be astonished as I cause everyday objects to vanish and reappear before their eyes. Some of my routines are designed to allow the Magic to happen in the spectators hands. This is a very baffling experience which is sure to leave a lasting impression. My act has been fine tuned over the years and structured in a way that delivers plenty of gags as well as Magical moments. My goal is to entertain people on your behalf. Hiring a professional Magician for your kid's party is a great way to keep your guests entertained and keep them talking afterwards.
No. 1 for Kid's Entertainment in Co. Meath & Surrounding areas!
Wedding entertainment for Children in the Leinster and Ulster area!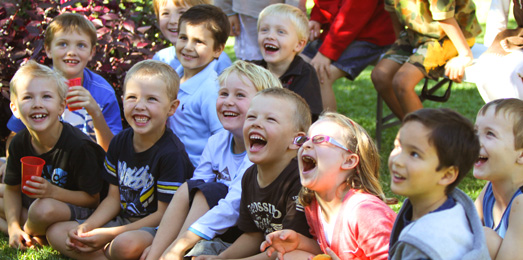 Now there's an idea! – For many of us, attending a wedding is a great opportunity to catch up with old friends and family members. This can be quite a difficult task when you consider that this is also an opportunity for all of the kids to get together. It's not so easy to relax and have a conversation with an old friend when you've got so many kids running around. Kids get bored quickly at weddings since usually all of the entertainment at weddings is focused on catering for the adults. Well here is the perfect solution to this problem…
Wedding entertainment for Children in the Ulster and Leinster area!
Why not book a Kid's Magic Show for your upcoming wedding? This is an excellent, tried and proven method for keeping children entertained at weddings. There will be no kids running around. There will be no bored kids. For the duration of the Magic Show, you will know exactly where all of the kids are.. sitting still, glued to the performance and having a great time. This gives the adults plenty of time to relax, have a drink and a good old chin-wag with some old friends!
Wedding Gift Idea
Booking a Kid's Magic Show for a friend's wedding makes a great wedding gift. Relieve some of the stress for everyone on the big day while making the day an enjoyable and memorable one for the kids too!
Secure your booking

Bookings can not be locked in until a deposit is paid.
Bookings can be paid by bank transfer. Use the form below to send me your contact details so that I can send you the relevant account details.

Deposit is non refundable.
Thank you for your custom. I look forward to performing at your event.
Kind Regards,
Keith McCabe Magician.
Get in touch.
For queries or to make a booking, contact Keith McCabe by calling 087 6016795
Get in touch through Facebook or send an Email using the contact form here.
I look forward to hearing from you.
Kind regards,
Keith McCabe.